With the VOLISTA® product range, Maquet offers a comprehensive product line that integrates lighting, suspension and multimedia equipment to meet the individual needs of each surgical theater.
The VOLISTA range is comprised of:
VOLISTA Access

VOLISTA StandOP®

You don't need to be an expert on surgical lighting to appreciate how VOLISTA goes above and beyond to give surgeons the best possible view of the entire surgical cavity. The VOLISTA range accomplishes this while minimizing eye fatigue and the need for lighthead and illumination adjustments over the course of lengthy surgical procedures.
From patient outcomes to financial outcomes, every minute counts in the surgical suite. And Volista was designed with the surgical team's valuable time in mind:

Streamlined lighthead and drift-free, lightweight suspension are easy to maneuver and position.
Intuitive touchscreen control is simple to use. Pre-sets capture surgeon and procedure preferences.
Proactive alerts and maintenance reminders speed troubleshooting and help ensure long-term reliable performance.
All primary functions can be controlled at the lighthead. Settings can be synchronized at the wall keypad.
Redundant circuit board design and smart electronics help ensure a minimum of 50% illumination in the event of power fluctuations.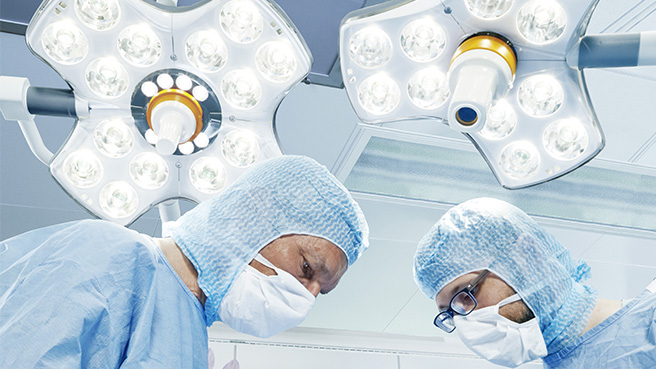 Why brighter is not better.
Surgeons understand that more light isn't always the best light – especially at peak intensity levels that often result in unwanted glare, extreme eye fatigue and distorted color perception. VOLISTA's HECOL lens provides an evenly distributed deep column of light that surgeons prefer at more comfortable lower illumination settings.
Just set it and forget it.
What's more, VOLISTA virtually eliminates the need for annoying manual lighthead adjustments and refocusing to let surgeons concentrate on their patients rather than the position of the light. It's never been easier to manage shadows at the surgical site.
It's one button easy.
If additional light is required during the course of the surgery, our patented BOOST technology gives surgeons fingertip control to increase illumination to a pre-set intensity in just seconds while retaining all light parameters (CRI, depth of field, light field size). With another touch of a button, light intensity automatically returns to its previous setting without guesswork or trial and error.
Automatic compensation for obstructed LEDs.
By adding VOLISTA's optional Automatic Illumination Management System (AIM), the intensity of any single LED automatically is adjusted higher or lower depending on whether the system senses an obstruction. AIM also provides an extra measure of shadow control and consistent illumination whenever the LED array is partially blocked. And it does so without any intervention by a member of the surgical team.
Automatic response to what the surgeon actual sees.
Until now, illumination intensity has been measured solely at the surgical site. But that's not always a true representation of the reflected light level available to the surgeon's eyes. That's because white tissue reflects more light and red tissue absorbs it. With this in mind, VOLISTA's optional Luminance Management Device (LMD) integrated into the lighthead measures the intensity of the actual reflected light. So what you set is what you get each and every time. No manual adjustments are necessary. It's like placing your surgical light on cruise control.
Solving the LED dilemma.
Volista also automatically compensates for an inherent characteristic of LED lighting that others choose to ignore. The fact is, all LEDs can lose up to 30% of their illumination intensity after just two hours of surgery. Plus over time, maximum intensity levels can decrease by as much as 30% in just two years of use.
But thanks to exclusive FSP (Flux Stability Program) technology, smart electronics increase the current to the light as needed to maintain the initial light output throughout the entire procedure. With Volista, when you start with 120,000 LUX, you end with 120,000 LUX. Unlike other lighting systems, no intervention is required. And you don't have to start with higher intensity to reach the illumination setting you wanted from the start.